Even though it's still only mid-October, holiday collections are already rolling into stores! The most anticipated product of all holiday collections are definitely the highlighters. Each year, cosmetic brands release highlighters because of the high demand of sparkle, shine, and that candlelit glow for the holidays! This year has been no exception, and I already have my eye on some absolutely stunning pieces.
1. Chanel's Lumière Sculptée de Chanel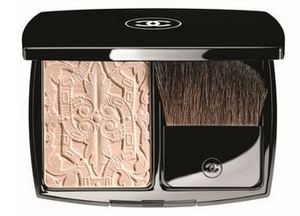 Lumière Sculptée de Chanel

Isn't the design of this highlighter just absolutely breathtaking? It's probably one of the most intricately designed highlighters I've seen from any brand in a while. Personally, I love very shimmery highlighters but I love how there are microglitters in this highlighter that contirbute to the glow factor without be overwhelmingly sparkly. When I went to ask my Chanel SA about this product at Bloomingdale's she showed me the tester (which hadn't been put out for display yet) the overspray was beautiful, but of course oversprays never last. This is probably the priciest highlighter for the Holidays at a steep $72. I'm going back to Bloomingdale's on Thursday to pick up a few more items from the Holiday collection so I will go take a second look at this highlighter then!
2. Guerlain's Parure De Nuit Pressed Powder/Blush

Parure de Nuit Pressed Powder/Blush

The second highliter I've been contemplating is the Guerlain Parure de Nuit Pressed Powder. It's more of a peach toned highlighter than the Chanel one so I feel like this will present more of a healthy glow rather than just "light" on my face. What I particularly like about this product is that it's multifunctional! Even though it can work as a highlighter, the diagonal strip of color in the feather imprint can also work as a blush! It's not a very glittery highlighter, which can be more useful all year round! This one is slightly more affordable at $67, but it's still an investment!

Météorites Perles de Nuit

3. Guerlain's Météorites Perles de Nuit
Guerlain loves their illuminating products, and I do too! They release a version of their iconic meteorites every holiday season and they're very popular. I've read some of the reviews and all of the bloggers whose opinions I absolutely trust haven't given me any reason to believe that this year's meteorites are worth it. I love the finish that the original meteorites leave so even though this particular highlighter is lower on my list than the others, it's definitely still an option. For some strange reason these pearls are actually less expensive than the original ones at $56 compared to $57. It's only a $1 difference, but I thought it strange since LE items are usually more expensive than the permanent ones.
4. Laura Mercier's Face Illuminator in Rose Rendezvous
This highighter is one that I just found out about yesterday on Sephora's website. Laura Mercier makes wonderful highlighters but I'm not really sure if this one reaches the level of the other holiday highlighters. But then again, I could be wrong and this highlighter could potentially outshine all of the other ones! It seems like it would have more of a bronzy rose finish as a highlighter rather than just a luminescent glow.
5. Chanel's Natural Finish Loose Powder in Féérie

Natural Finish Loose Powder in Féérie

This is the "highlighter" of the holiday collections with the most glitter and the most shimmer. What's really surprising about this however is that it comes in loose powder form and that it's baby pink! I really don't think that the pink quality of this particular powder will really be that noticeable when applied to the face. Highlighters aren't meant to be particularly noiced, they're just meant to bring an extra depth to one's face. The concept of this powder reminds me a lot of Laura Mercier's Loose Shimmer Powder in Stardust, which is my staple when putting together a night look. I love the shimmer and shine that it will provide but I'm a little nervous about the fact that it's a loose powder. With press powders, it's very rare to overapply. That isn't the case with loose powders however and I'm unsure of how often I would use this. It would really only be reserved for parties or events. Still, I think it's definitely an option. Holiday items are meant to be special and this one definitely is! This particular highlighter comes at a hefty price of $52.

I'm so indecisive! But when it comes to highlighters, especially high end ones, I want one that is going to be effective and fulfill it's purpose without being too over the top. Highlighters are in my opinion the most prominently promoted items in holiday collections and often the best. I'll try to make a holiday haul soon, featuring the highlighter that I choose to buy! If you think one is better than another, please let me know your opinions in the comments below!